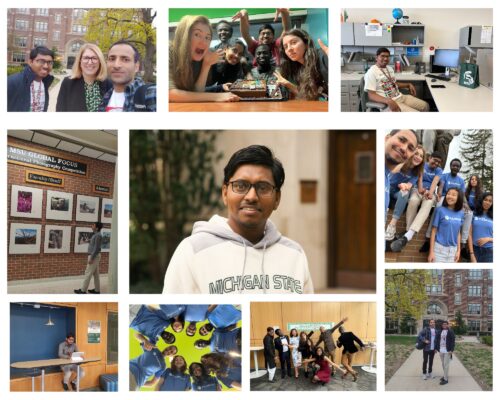 Qualification: PG (ELT)-Aligarh Muslim University(AMU), UG (Hons) in Communicative English-AMU, B.Ed-AMU, TESOL/TEFL-Asian College of Teachers, CTET (CBSE)
Designation: Counselor and Personality Development Teacher at The President English High School and Jr College Mumbai, Public Speaking Trainer at Planet Spark
Award: Fulbright -Foreign Language Teaching Assistant (FLTA), Worked at Michigan State University-USA
Taught at: King's Eden International School Mau| Kids Island Senior Secondary School, Aligarh
Area of Interest: English Language Teaching-(ESL/EFL/ ESOL), English Communication & Soft Skills, Personal Growth, Developmental Psychology, Educational Philosophy
Experience: Teaching Since 2015
Contact: +91 8090032587
Email Address: shadab3495@gmail.com
Website: www.englishfi.com
Profile
Shadab Akhter worked as a Foreign Language Teaching Assistant at Michigan State University, USA. He presented Indian culture, specifically lower-middle-class families, to the elementary, middle, and high school students and the larger community in Greater Lansing, Michigan. He worked as an English language teacher at King's Eden Internation School in Uttar Pradesh, India and at Kids Island Senior Secondary School in Aligarh. He pursued his PG in English Language Teaching and two bachelor's degrees in (a) Communicative English and (b) Education from Aligarh Muslim University.
He also credits the TESOL/TEFL certificate. Additionally, he earned a certificate in Academic and Business Writing from the University of California, Berkeley (online mode). He also did professional training in the Psychology of Personal Growth from Hong Kong University of Science and Technology through Edx.org. Akhter has qualified Central Teacher Eligibility Test (CTET) in 2019.
He started his career as an English Language Instructor at Kids Island Senior Secondary School in Aligarh, India. As part of his training, he has also taught undergraduate students at Aligarh Muslim University, Aligarh. Mr. Akhter has been Editor of the Annual Hall Magazine titled Payam-E-Alig, released by Aligarh Muslim University Murshidabad(W.B) for the session of 2019-2020.
He has been a representative in the Career Counseling Committee at the department of English, AMU. Akhter worked as a material developer and course designer for the Basic English Language Course for Bengali Speaking Students at Aligarh Muslim University, Murshidabad. He also designed a 3-month online diploma course in English Language Proficiency for Madrasa students with Insaniyat Foundation, Aligarh.
Apart from academic excellence and achievements, Akhter has been a winner in different speech and debate competitions. He has achieved the first position in a self-composed poetry competition at AMU Murshidabad. Shadab has also been rewarded by the Michigan Alumni and National Scholarship for being a meritorious student during his education.
Workshop Attended
Participation and Awards